Three Square Food Bank Receives Donation of 1,000 Boxes for Senior Hunger Program
LAS VEGAS, April 14, 2020 / -- StorageOne has teamed up with CDS Moving Equipment to donate 1,000 medium and small size boxes to Three Square Food Bank.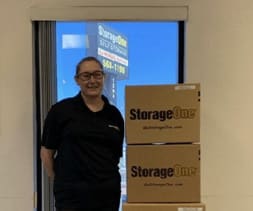 Jodi Tyson, Vice President, Strategic Initiatives for Three Square Food Bank, reached out with an immediate need of boxes to fulfil the delivery demands of The Senior Hunger Program. StorageOne, along with CDS Moving Equipment, stepped up to donate the much-needed boxes.
The Senior Hunger Program provides food-insecure older adults (60 and better) with healthy, supplemental groceries including fresh fruits and vegetables, whole grains, and lean proteins. These low-income and socially isolated older adults lack access to healthy food & nutrition on a daily basis, so the program helps ensure these individuals stay fed during the COVID-19 crisis.
StorageOne has been a long-time advocate of Three Square Food Bank, supporting the organization with food and fund drives at their facilities. "We've called Las Vegas home for over 35 years and are committed to serving our communities across the valley" stated Jim Meservey, a founding principal of StorageOne.
About StorageOne
StorageOne, founded in 1993, has over 27 years of development, construction, brokerage and management experience in the Las Vegas self-storage market. Having constructed more than 100 self-storage properties in the greater Las Vegas Valley, StorageOne currently has 11 facilities serving the Valley and is actively developing new properties. All of the facilities are air-cooled and equipped with individual unit alarms, with computerized gate access control, perimeter block walls, and surveillance cameras. StorageOne offers many products and services, including Penske and U-Haul truck rentals, boat and RV storage, professional moving services & supplies, and tenant stored property insurance.
About CDS Moving Equipment
Established in 1981, CDS Moving Equipment is a business to business supplier of moving equipment and packing material, carrying a full array of professional equipment and supplies for moving, warehouse and trucking needs. CDS also carries a full supply of retail style packing material and supplies for packing and shipping outlets, self-storage facilities and box stores in California, Nevada, and Illinois. CDS has its own factories producing a complete line of furniture pads, pallet pads, and related items such as door jamb protector pads and space savers. All of these items are in stock and available for immediate delivery via their radio dispatched fleet of trucks.